If you like new developments, then the area surrounding the Broadway Red Line T-Stop is your new hot spot. 2007 has seen the completion, and near completion, of what we are calling the Three South Boston Amigos – the Lofts at 36 A, the Macallen Building, and Allele Boston.
These three condo developments are setting a new baseline for high-end living in the northern part of South Boston, with existing standards (Court Square Press) and some more to come in the upcoming years (Leachmore Point, now to be called Eleven West Broadway). Both the Macallen and 36 A opened to residents around the June 2007 timeframe, and Allele is planning for an early 2008 occupancy date. The exclusive photo below shows Allele Boston in the foreground, and the newly completed Macallen Building in the background, with the South End and Back Bay skyline to the left.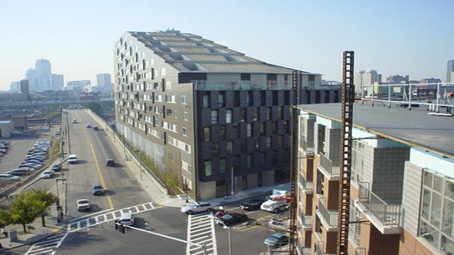 For buyers looking for the opportunity to build short to medium term equity, this area of Boston should be of pertinent interest. With the amount of development that has already happened, and that which is planned, the neighborhood will continue to blossom. For instance, we recently announced that Tapeo Boston will open a new South Boston restaurant on the ground floor of Allele, adding to the draw of the area. Small things, like reconstruction of the median between Macallen and Allele on Dorchester Avenue and the planting of trees will, again, add to the beauty and allure of the area. Significant retail is planned for Court Square Press (an organic market complete with top choice butcher), Macallen (yoga studio, dry cleaner, cafe, and small offices), and across the street from the T-Stop, a not yet announced art / wine gallery.
The Lofts at 36 A is a 36-unit 6-story boutique development that features very high-end finishes throughout, including some of the best bathrooms in the city, and exquisite scored and stained concrete floors. The development features a common roof deck situated next to numerous private roof deck spaces, and two levels of garage parking, the lower of which is serviced by a car elevator. This is a high-end, but no frills (no concierge or fitness center) condo development. 36 A features a single retail space on the ground floor.
Allele Boston will be a 48-unit 6-story (but will sit slightly lower than the adjacent 36 A building) development that is aiming for a February / March 2008 opening. Allele, which means hybrid, offers traditional home features with loft style feel, some with terraces, and garage parking for an additional purchase price. Allele will feature a ground floor restaurant (Tapeo of Newbury Street is currently the target client).
The Macallen Building is a LEED Gold Certified (Green) 140-unit mini-mega development. Macallen represents the second phase of the Court Square Press buildout, and is a full service luxury building that is the first green residential building in the city of Boston with an outdoor heated pool on an 18,000 square foot plaza, garage parking, and a viewing / entertainment room, and fitness center (in Court Square Press).
Developers are creating a very high-end, desirable enclave just south of the city, and it's only a ten minute walk to the South End, or a quick T ride to Downtown Crossing. Residents of other recent area developments, namely 80 A Street (also known as 52 Athens) and 125 B Street Lofts, which are seen as perhaps a lower price option to Macallen, 36 A, or even Court Square Press, will soon be enjoying the fruits of their sister developments' labor by way of increased condo values, and augmented commercial and retail options.
For a complete look at what is available in each of the Three South Boston Amigos, or any of the other sister developments, please contact us. The exclusive photo below shows the lineup of the Three Amigos along W 4th Street (closest to farthest: Lofts at 36 A, Allele Boston, Macallen Building).