South Boston is an area in transition.
The St. Vincent Neighborhood District (St. Vincent de Paul church sits in the heart of the neighborhood), with its overgrown vacant lots and rundown buildings / warehouses of the old commercial era, is being seen by architects and developers as their new playground, to do with as they please.
South Boston developers have run the tasteful, striking, contemporary, and thought-provoking gamut quite well with designs like the "green" Macallen building, 321 West Second Street, Allele Boston, and the Trolley House (pictured immediately below).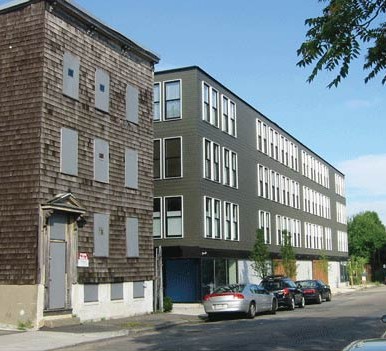 The designs are well received by the buying public, as the Trolley House is completely sold out, and other developments in the area are seeing solid uptake on preconstruction availability. Not that you don't have innovative developments going up in more traditional areas of the city (considering Penny Savings Bank for instance in the South End), but perhaps it's South Boston, and the Seaport District (including Fort Point Channel) that still have the opportunity to have their look and feel reestablished, and for the better.
Designers and developers are naturally drawn to areas like this where true change can be imparted (shaking things up perhaps), and a positive stamp can be left, leaving it better than the state you found it in.
We are just trying to create honest buildings. We made them neutral, not flashy, but they become significant nonetheless," said David Neilson, the urban designer behind the 321-323 West Second condo development in South Boston (pictured immediately below).