Absorption of the 140-unit new green (LEED certified) Macallen Building in South Boston has been steady since its opening in summer 2007.  Given the complexities and care that go into the development of such an environmentally-friendly and progressive building, price points are naturally  higher than its adjacent sister condo development, Court Square Press. That said, we predicated that a fully sold out Macallen Building would take slightly longer than perhaps a "standard" condo development elsewhere in the city, but nonetheless, Macallen is quickly approaching a sell out.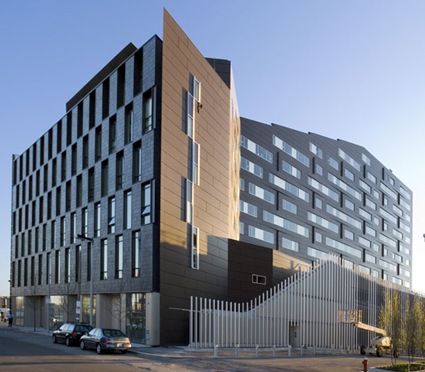 The sales team at the Macallen has the privilege of pushing a really good product.  And when we say good, we mean amenities galore, attention to clever details, accommodation / willingness to work through any punch list items to make a unit perfect, easy transportation (public and private) access, and an anchor property in a neighborhood now well-grounded in high-end condo developments and emerging commercial and retail space.  Additionally, the marketing effort has been helped by some innovative sales plays, the most notable of which involved the sales office giving a free hybrid car to unit Buyers that went Under Agreement and closed by certain deadlines (see Buy at Macallen, Get a Free Hybrid Car).  The latest move is perhaps not as headline catching, but provocative in its own right, as some units have been reduced in price upwards of $100,000.
Take for instance unit 804, a 1,191 square foot two-bedroom two-bathroom unit that features a balcony, lots of light on a high south-facing floor, and one deeded garage parking space in the direct elevator access garage, recently reduced approximately $100,000 to a new listing price of $689,000.  While the onsite sales office is accessible seven days a week, an open house was held this past weekend, and traffic in response to the price moves, was strong.
With the crisp, clean, and minimalist type lines and finishes at Macallen, the look may not suit everyone's taste, but it's hard to argue with the community that is being created between Macallen and Court Square Press (the two buildings now combine to form one condo association), and the living style and amenities (bordering on the "valet lifestyle" that we coined here) that are at your fingertips.  For more information on available units at the Macallen, contact us using the link at the top of this page.