Situated in the heart of Boston's Financial District, the Broadluxe loft-style condo development is, after several months, now down to its final two developer units. The final two units, both studios, and essentially the same floor plan, are approximately 540 square feet, have the same finishes that other units in the building contain, including granite countertops, exposed brick and beam, washer / dryer hookup, and extra storage in the basement.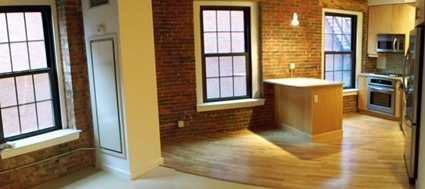 The two units, 4F and 5F, are both listed at $299,000, however, this price comes on the heels of several price reductions in an effort to move the last of the remaining inventory off the books of owner Apex, Inc. (a subsidiary of TD Banknorth).  The developer has appraisals in hand for the units at approximately $340,000, and are being aggressive about closing out the remaining two studio lofts.
Condo fees for these units are approximately $320 per month, and include hot water, water, sewer, master insurance, security (including concierge Monday through Friday), elevator, exterior maintenance, snow removal, refuse removal.  For more information, use the contact us link at the top of this page.