Just when you thought that Broadluxe was down for the count, it has picked itself up, swept away the dust, and is moving towards a November 2007 completion. The Broadluxe condo development in Boston's Financial District fell on hard times earlier this year when it was foreclosed upon by TD Banknorth, at which time the building went dormant.
We captured the below picture back in late May 2007, when you could hear crickets on the job site at 99-105 Broad Street.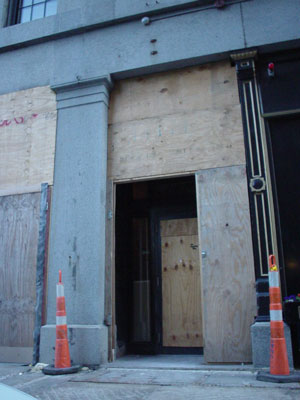 Fast forward to the present, as TD Banknorth recently brought in Union Construction, a Boston-based company, to finish the buildout at the Broadluxe job site. According to sources at Union Construction, construction has resumed and TD Banknorth is paying their bills.
We've been on the job for about seven weeks now, and things are going perfectly. 34 units on floors two through six should be done in November," says the job foreman from Union Construction.
We stopped by the job site, and despite not being let in because our hats were not hard enough, the guys at Union Construction were great. They spent some time talking with us about how the project has been going. Overall, they seem quite upbeat, and heads down on making units available for the November 2007 occupancy date.
The 10 units remaining on floors 7, 8, and 9 were to be left as open loft space, however, an architect has now been brought in to create plans in order to finish the units off. These latter 10 units are scheduled to be finished after the initial November 2007.
The Broadluxe Sales Office main phone number still goes unanswered, and Dana Wedge from TD Banknorth, did not return calls to provide the "owner" perspective. Should you be interested in Broadluxe, please contact us, we would be happy to keep you informed of the status and provide buyer representation in securing a reservation for a unit when TD Banknorth releases them to the market.
Broadluxe will round out the Financial District's Broad Street, which already is home to Folio Boston and the 65 Broad Street Lofts.