One of our Featured Boston Condo Developments is Court Square Press in northern South Boston, a 130-unit six-story luxury loft development.
Court Square Press is located at the western end of Broadway (9 W Broadway Boston, MA 02127) at the junction of South Boston, the South End, the Fort Point Channel, and the Financial District. Across the street is the Broadway Red Line "T" Station, which is one stop away from South Station, a hub for city buses and Amtrak service.
The building is circa 1906 and originally served as the factory and offices of the MacAllen Manufacturing Company (where the neighboring new condo development gets its name), which produced electrical supplies for railroads. By mid-century, the Georgian Revival building was taken over by its current namesake – the Court Square Press Company. Court Square enjoys recognition as a Significant Structure by the Boston Landmarks Commission, and as such its architecture speaks of the timelessness and simple elegance of early 20th Century brick-and-beam construction. Note the original Court Square Press Building design in the below image.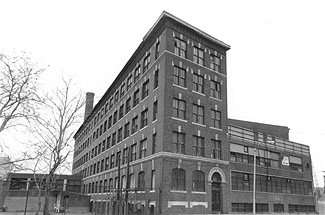 After lying vacant for five years, Pappas Enterprises purchased the property in 1999 and set out to rehabilitate the building into luxury loft-style condominiums.
Completed in 2004, the building has been painstakingly restored, despite experiencing a significant setback along the way. In the spring of 2000, the demolition of two ancillary buildings on the site caused the section of the building fronting Dorchester Avenue to become structurally unstable and begin to collapse. It was subsequently torn down, and was rebuilt utilizing bricks salvaged during demolition.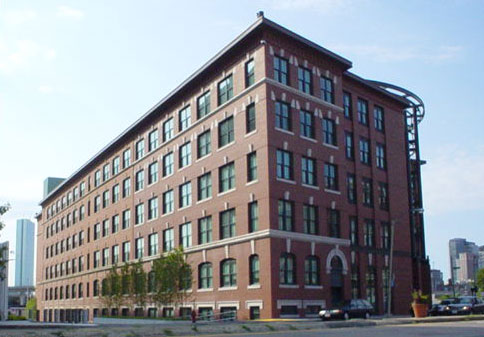 All original brickwork has been re-pointed and refurbished, and architectural details such as the limestone keystones crowning the casements were individually evaluated and either restored, repaired, or replaced. The project's designers, John Cunningham Architects Inc., located modern double-pane insulated windows that exactly replicate the building's original industrial-style fenestration. The firm also created a new entrance at the corner of Broadway and Dorchester Streets that thoughtfully blends modern design and construction with the beautiful turn-of-the-century elements.
The luxury exposed brick and beam lofts at Court Square Press have sales prices anywhere from $400,000 to almost $1,500,000 and range in size from 800 to almost 3,000 square feet. With the recent completion of the adjacent Macallen Building, Court Square Press residents will have access to a range of high-end amenities at both Court Square Press and Macallen, including, a large fitness center, outdoor heated pool and terrace with 5 grills, an entertainment screening room with a kitchen and bathroom, three-level parking garage, and multiple retail and commercial establishments (including a yoga studio, Sophia's cafe, dry cleaner, Little G organic market, etc).
Oftentimes, multiple units are available for sale at Court Square Press. For more information on the current selection, including a full price list, or to sell your unit, please contact us.