At the beginning of December, we were the first to bring you the news of the Bryant on Columbus coming up out of the ground, above its multi-level underground garage (see Lift Off at Bryant on Columbus). Work continues to progress quickly at the Bryant as evidenced by the exclusive photos below – the photo immediately below on the left is the current construction site, while the developer's mockup on the right shows what the Bryant will look like upon completion later this year.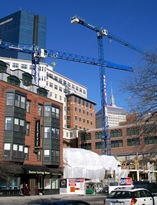 Bryant on Columbus Completion
At this point, it's hard to say if the building will be move-in ready by its currently estimated August completion date. The developer pushed the date back once already, but with the quick movement that they have seen over the past several months, August, at this point, does not look like it is entirely out of the question. For comparison, the Mandarin Oriental, which is just a few blocks away, has its shell nearly complete, and they are targeting what appears to be a quite realistic July 2008 opening.

Bryant on Columbus Pricing
The Bryant will boast three-bedroom floor through living spaces. Three-bedroom units start at approximately $1,550,000 for just over 2,000 square feet, and run up through $2,950,000 for 2,000+ square feet penthouses with private outdoor space. Price per square foot at the Bryant ranges from $750 to $1,400+. Direct elevator access, 5-day concierge, secure garage parking, and high-end finishes throughout these condos along Columbus Avenue (where the Back Bay meets the South End) will be an excellent addition to the neighborhood.