We have received quite a few requests regarding the luxury condo-hotel development at Battery Wharf on Boston's Waterfront in the North End – unfortunately, there is not a lot of real time concrete information out in the market on this development, so we thought we'd shed a little light on the subject. Battery Wharf is continuing the tradition sparked by the Intercontinental Boston, the Boston W Hotel & Condos, the Ritz Carlton Towers, and others of a luxury condo-hotel lifestyle (i.e. you have the perks of staying at a five-star hotel, but you also have the feeling of home). The lifestyle and living choice is appealing to a broad spectrum of buyers, anywhere from young professionals to retired couples.
Battery Wharf, which sits at 377 Commercial Street near the foot of the North End's famed Hanover Street along the Boston Harbor, is a mixed-use development featuring 104 hotel serviced residential condos, a 150-room luxury Regent hotel, an 18,000 square foot spa by Guerlain, a marina, a 7,500 square foot restaurant and bar offering Waterfront views featuring "Cuisine Extraordinaire" by three star Michelin chef Guy Martin, a 24-hour valet parking service available at several pickup and dropoff locations throughout the premise serving the 376-space garage, and a Coast Guard museum. Invite friends to visit via private water taxi service, which serves Boston Logan Airport in 7 minutes, as well as other destinations along the Waterfront.
The exclusive photo below was recently taken on the water in Boston Harbor. You can see that construction is moving along nicely with the development now looking quite similar to the architect's rendering at the bottom of this post. Water taxi service will be around the corner from the right-hand pier outcropping, with the Coast Guard station being on the far right.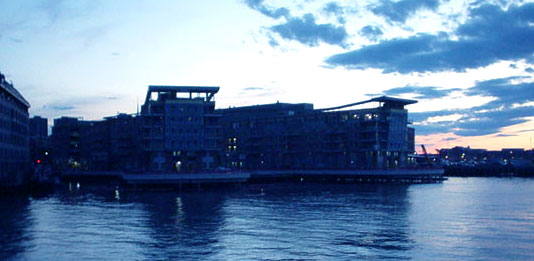 Including the Regent Hotel, Battery Wharf will be comprised of four buildings and will feature a 300 linear foot marina. As the Improper Bostonian put it, this is truly luxe living at its finest. Staff at the Battery Wharf development say that condo room-service will even leave a mint on your pillow if you want.
Getting down to brass tax, here is the shakedown of the current status: the buildout of residential condos is approximately 75% complete, of the 104 condos at Battery Wharf, 55 are under Purchase and Sales Agreements, and the 56th unit is going under reservation next week, which means, there is a good selection of floor plans and options still remaining. Still available are units ranging in size from 974 square feet to 2,430 square feet, and in price from $1,150,000 to $3,200,000 – views, floor level, and size typically define the different price points in between.
The development is currently on schedule, units will be released to early buyers sometime during December 2007. For those on the back end of reservations, and for those who reserve now, you can plan for a January or February 2008 occupancy date. The Regent Hotel will aim for an early Spring grand opening, however, a final date has not yet been ironed out, they are, however, announcing the General Manager of the hotel sometime in the next two weeks (see recent Regent Boston Hotel at Battery Wharf General Manager announcement).
For more information, please contact us, we would be happy to arrange a visit to the sales center, and a first-hand look at what they are calling, Utopia Engineered.