One of our Featured Boston Condo Developments is Atelier 505 in the South End, a 103-unit luxury condo development. For more information on currently available units at Atelier, or to list your unit for sale, please contact us.
Atelier 505 was born from a process that Boston Mayor Thomas M. Menino began in 1995, calling for specific uses of the parcel of land where Atelier 505 now sits, namely, the project would have to include expanded cultural facilities that would be affordable, provide a subsidy to the Boston Center for the Arts (BCA), create a "worthy architectural presence" and be compatible with community interests of local residents and nearby businesses.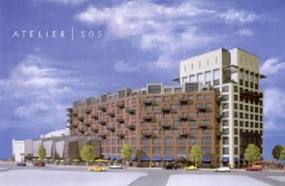 A Request for proposals advertised in 1997 saw five developers respond, and it was the Druker Company Ltd. (synonymous with The Colonnade Residences) that was awarded the opportunity to build what we know now as Atelier 505, adjacent to the Boston Center for the Arts along Tremont Street, at the corner of Berkeley Street and Warren Avenue. Druker broke ground for the $100 million development during the summer of 2002, and completed construction in 2004.
A mixed-use development, Atelier 505 is a chic and cosmopolitan development that combines 103 ultra-luxury condominiums with 21,000 square feet of retail, cultural, and commercial space. The development's name is a combination itself, Atelier/505, combining the French word for an artist's studio with large windows, with the Tremont Street address.
ADD Inc, Managing Architect of Record, is credited for the design of the condominiums, from design and floorplans, to completion. Frederick Kramer, AIA, Principal at ADD Inc and Project Executive for this project said,
"Atelier 505 is a sophisticated design solution to a very challenging site. It's varied program elements accommodate a number of needs from over 100 condominiums to the creation of first-class performance space for the Boston Center for the Arts and The Huntington Theater, active retail uses at street level, public open space, and below grade secure parking for residents and others visiting the South End area. The complex design and construction issues were tackled head-on in a highly collaborative fashion by an exceptional group of architects, interior designers, engineers, and construction professionals resulting in what will be yet again another landmark project for The Druker Company and a welcome addition to the developing fabric of the City of Boston."
The Atelier 505 development consists of a nine-story brick building on Tremont Street, a ten-story natural limestone masonry building on Berkeley Street, and a four-story brick building on Warren Avenue. The 103 residences feature 70 different designs, ranging from studios, duplexes, townhouses to 3,000 square feet penthouses. Unique to a South End development as large as Atelier 505 is that two-thirds of the luxury units have private outdoor space. Ceiling heights are 9, 11 and 13 feet, appropriate for an atelier (an artist's work space).
Atelier, being a French word, is pronounced differently than it looks. There's an emphasis on the first letter (sounding like the doctor placing a small wooden stick on your tongue and asking you to say "ahhh"), and the last letter, "r", is not pronounced, as the word finishes with an "eh". Atelier means craftsman's workshop or studio.
Residences at Atelier 505 feature hardwood floors in the living room, dining room, and kitchen; and Italian marble baths with soaking tubs and separate glass-enclosed showers and double vanities. The kitchens will feature SieMatic cabinetry, granite countertops, Subzero refrigerators, Gaggeneau gas cooking, and Miele dishwashers. Bedrooms are carpeted, and each unit contains walk-in closets. Underground deeded garage parking is available to residents, and often rented by nearby residents as well (Atelier 505 was built atop a former parking lot). Storage spaces ranging in size from 80 to 180 square feet are also available for sale to residents. The building is fully secured, offers concierge services, a doorman, and dog walking services.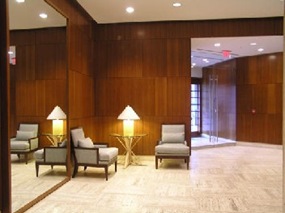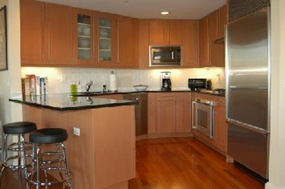 Machado and Silvetti Associates designed the interiors, including the spacious foyer and reception area. The fourth floor of Atelier 505 houses a resident library with outside space and a private dining room that could be used for a business meeting or a private party. Jed Johnson Associates assisted in selecting furnishings and fixtures for the function room, which will include a catering kitchen, capable of accommodating 50 people.
Oftentimes, at any given point, multiple units are available for sale at Atelier 505, for more information on the current selection including a full price list, or to sell your unit, please contact us.