This week, the building at 441 Stuart Street was offered to the public through a foreclosure auction. The property was most recently purchased in 2004 for $37.5MM with the intent of converting the building to condominiums.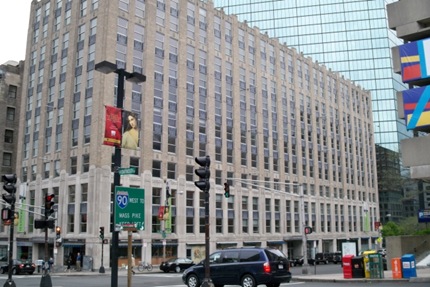 Recorded documents show that Corus Bank, a well-known condo conversion lender out of Chicago, placed $42MM in debt on the property in 2004. Corus Bank had received a "going concern" qualification from Ernst & Young, since then the bank has indicated that it is no longer "well capitalized" and the CEO has since announced resignation. Indications today are that it is very likely that Corus will fail in the very near term.
I'd estimate that there were 120 +/- attendees at the auction and I knew a number of the attendees who are high profile local developers. As I looked for bidders cards, I found eight. Manning, however, reported in another publication that there were 22 bidders. That's a believable number, we had about the same at the foreclosure auction at the Broadluxe. The auctioner opened at $30MM and asked if there were any bids. There were not. Next he cut the bid in half and asked for $15MM, and the bids that followed were $15.1MM, $16MM, $16.1MM, and finally $17MM. There was only one 3rd party who bid the $15.1 and $16.1 against the bank. The lender bought the property back at $17MM.
Nevermind the fact that the highest 3rd party bid for the property was less than 40% of the known debt, consider the fact that the number represents only about $100/foot. Remember that this property is in Copley Square. If retail prices for completed condos are $600-900/SF and construction costs run $150-250 per foot then that's a margin of 40% or better – isn't it?
Where this market ends up remains to be seen, but one thing for certain is that we're not out of the woods by a long shot. In fact we're probably heading into the woods.  Expect to see more auctions and more foreclosures on substantial properties like this as we move through the next 24-36 months. Developers and investors who act during this window will be the ones talked about and envied at the top of the next peak…  just like those who bought in the early 90s and sold in the last few years.