Built in 200, Trinity Place, a 100 unit luxury condo development adjacent to the Boston Public Library in Back Bay, remains one of the most coveted places to call home in ht heart of the city.  The boutique feel, the professionalism of the valet staff, and the concierge staff provide a welcoming feel to residents of the 18-story building that sees approximately 5% turnover per year.
Currently, there are 6 units available at Trinity Place, including the two penthouse units, which at one time, were being offered as a single unit for (historically) a record breaking listing amount of $15 million.  HOA fees in the development average a little over $1.00 per square foot, and other onsite amenities include a gym with small locker rooms.
205 – 1 bed / 1 bath, 846 square feet – $749,900
906, 1 bed / 1 bath, 836 square feet – $765,000
601 – 2 bed / 2.5 bath, 1,900 square feet – $2,200,000
403 – 3 bed / 2.5 bath, 2,111 square feet – $2,350,000
PH1 – 3 bed / 3 bath / 2 half baths, 2,838 square feet – $4,500,000
PH2 – 5 bed / 5 bath / 2 half baths, 3,650 square feet – $7,000,000
The best bargain on the list is more than likely unit 906, which is a double exposure northwest facing condo that gets you just above the Boston Public Library and most surrounding rooftops.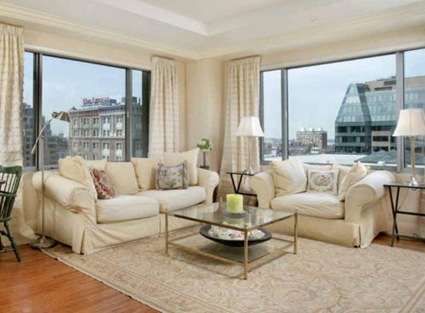 With ultra luxury residences like the Mandarin Oriental now coming online 1.5 blocks away from Trinity Place, it's the consistent quality and attention to detail that will keep Trinity Place, and similar high-end developments, in demand for years to come.  For more information, please contact us using the link at the top of this page.