The Back Bay is no stranger to ultra luxury real estate listings, and the penthouse unit at 294 Newbury Street (known as the Providence on Newbury) sets the luxury bar high overlooking Newbury Street shopping and dining.  If the seen and be-seen oasis of the Back Bay's Newbury Street is right for you, the direct elevator access penthouse unit at the Providence offers high-end living both inside and outside, along with adjacent alley parking.
Originally listed for $5,000,000 on April 15, 2008, the penthouse unit stayed on the market for 132 days before being canceled on August 25, 2008.  At that point, the listing was put back into the Boston MLS system at a new price point of $3,995,000.  The condo appears to be on a month-to-month listing, as it has gone expired and reactivated on the 1st of October, November, and now, December.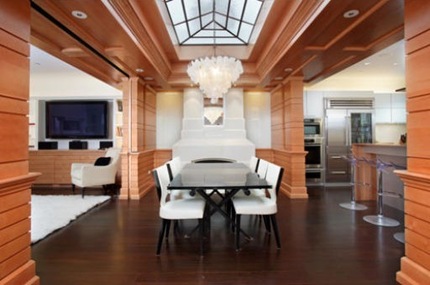 We first toured this building in the height of construction in May 2007 (see Providence on Newbury Condos), and the building, and especially the penthouse, has come a long way in fulfilling the developer's vision.  The hot tub, grill, and audio / video capabilities on the 70+ square foot outdoor deck overlooking Newbury Street caps this unit off.
However, the penthouse unit at 294 Newbury Street currently has some stiff competition in the Back Bay luxury condo market, with nine resale units available at the recently opened Mandarin Oriental.  In fact, on a price per square foot basis, the Providence on Newbury penthouse is more expensive than the three Mandarin Oriental condos under $5 million listed below.
E-10H 1,437 square feet 2bed 2bath $2,200,000 (1 parking space)
E-9F 2,557 square feet 2bed 2.5bath $2,554,000 (1 parking space)
E-11F 1,830 square feet 2bed 2bath $3,050,000 (1 parking space)
Choices abound in the Back Bay, and throughout the city for that matter, allowing buyers to be quite particular about what they purchase.  As it relates to the Providence on Newbury, if a boutique feel and easy access to shopping and dining is a must, as well as the hustle and bustle of downtown life, it's worth your consideration.