With temperatures still in the 90s, Bostonians are staying inside, pumping up the air conditioning, and trying to beat the summer heat (and humidity).  With air conditioners on maximum cooling, energy bills are on the rise – consider 10 ways to beat summer utility bills.
The Rose Kennedy Greenway is now consistently crowded with families taking advantage of the many fountains that can bring a cool relief to those taking in the Waterfront.  If screaming children having the time of their lives is not in the cards for you, and you're looking for something a little more sophisticated, try the Colonnade Boston Roof Top Pool (admission required).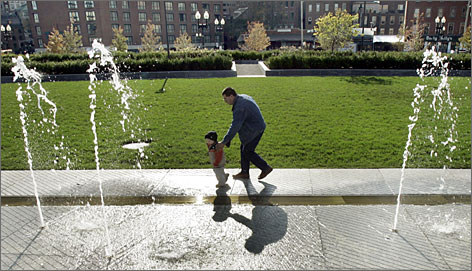 And for those dreamers out there, if you were the proud owner of 74 Beacon Street, a stunning Beacon Hill home, you'd be able to enjoy your Boston infinity pool in the private comfort of your roofdeck deck overlooking the Public Garden perhaps the quintessential Boston pool of them all.