Finding a place to park your car in downtown Boston can be difficult and expensive.
First, you have to locate a space. Then you have to deal with parking tickets, street cleaning, expensive meters, drivers bumping into your car, not to mention winter weather.
This is why more and more people are investing in Boston parking spaces. Not only will you avoid all these aggravations, owning a parking space in the city center of Boston can also be a great investment opportunity.
Boston Parking Spaces on Tremont Street
If you are looking to buy a parking space located in the heart of the city, the space located at 170 Tremont Street, inside the Parkside condominium development, offers a secure designated spot with 24 hour security and valet service. Compared to other parking facilities, the valet service at 170 Tremont Street provides flexibility to retrieve your vehicle; you can either call ahead to request your car or set up a parking schedule with the valet service.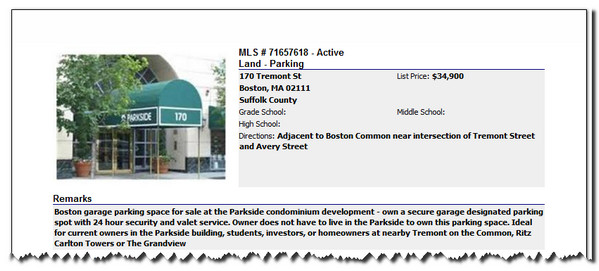 Additionally, you do not need to own a condo in the Parkside condo development to purchase this parking space. Contact us today regarding Boston parking spaces – we work with local residents looking to buy and/or sell, as well as investors all over the US and abroad who are interested in leveraging parking spaces in Boston as an income producing asset that can diversify their investment portfolio.
This space is conveniently located a short distance to the Back Bay, Financial District, Beacon Hill, Faneuil Hall, and the Theater District. This is an ideal parking space for current owners in the Parkside condominium complex, students, investors, renters / homeowners at the Tremont on the Common, Ritz Carlton Towers or The Grandview or nearby neighborhoods.