In March 2008, we ran a story about the Clarendon (see Clarendon Back Bay Condos Looking Up), out of which came a conversation thread about whether the 33 story tower would block views of the Hancock Tower from the adjacent luxury Albert A Pope Building once the new ultra luxury Clarendon was complete.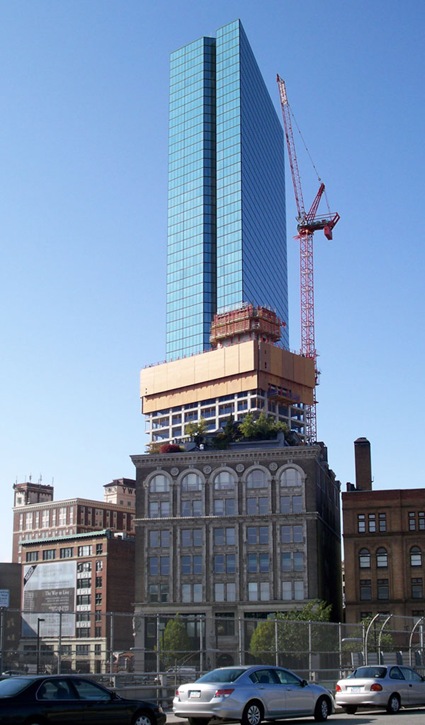 It was somewhat speculation in March what the situation would entail, but it is apparent now that the Clarendon Back Bay will indeed block views of the Hancock Tower from the Pope condo development. Inside sources connected to the Clarendon are stating that the building should top off in approximately 6 weeks time, and the 33 stories will definitely block views of at least the lower portion of the Hancock Tower.
There were two units available for sale at the Pope building earlier this year, both have since closed for $1 million+ each, with price per square foot averaging a little over $600.  Sales at the Clarendon appear to be strong, at a different price point ($1,100+ per square foot) entirely. Regardless of a direct view of the Hancock Tower, the 24-unit boutique Albert A Pope Building that sits above the Mistral restaurant will remain one of the premier condo developments along the Back Bay and South End border.