A fair amount of the noise on Newbury Street in the Back Bay can be attributed to the progress that is being made at the seven unit luxury development at 294 Newbury Street called the Providence on Newbury. We had the opportunity to stop into the development this week, and work is steadily progressing.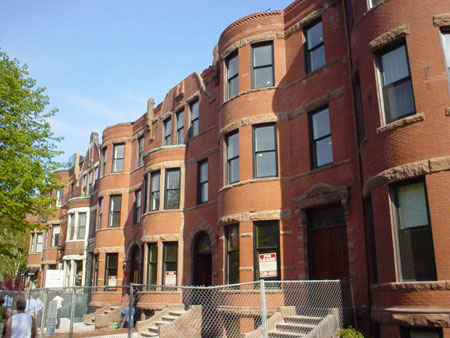 The Providence on Newbury is made up of three buildings on Newbury Street. The ground floor and basement units will house at least three retail clients (no restaurants) , while the upper floors will house four one-bedroom, two two-bedroom, and one penthouse condo, all served via a central elevator.
Each condo comes with at least one parking spot, custom cabinets, marble baths, and high-end appliances. The two two-bedroom units have excellent ceiling heights, and grand views of Newbury Street.
The penthouse unit, priced not-to-sell at $5 million will boast a plasma TV in every room, ultra high-end finishes, and an 800+ square foot roof deck (one of only two Newbury Street roof decks that is right on Newbury, rather than set back off the street slightly) with an eight person hot-tub, four season ecosystem for the green thumb in all of us, full kitchen, and you guessed it, a plasma TV (yes, outside).
Units are slated to be delivered at the end of July 2007. There is only a single one-bedroom unit that remains, and both two-bedroom condos remain for sale. If you are looking to be "in the thick of things" in the Back Bay on the heart of Newbury Street, the Providence on Newbury Condos give you that experience at just over $900 per square foot.