About half of all households in Massachusetts own a pet, according to the American Veterinary Medical Association. If you're among them, finding a place to call home that welcomes both you and your four-footed friend is important. Yet Boston has notoriously slim pickings when it comes to pet-friendly places to live, whether for Boston furnished apartments, short-term rentals, corporate apartments, or other types of rentals. In fact, a 2015 Trulia study found that:
Only 20% of Boston landlords allow cats
Only 9% of Boston landlords allow small dogs (under 40 pounds)
Only 1% of Boston landlords allow large dogs (over 40 pounds)
With this in mind, it's important to know where you are welcome with your furry family members. Annette Clement, Executive Vice President and General Manager of Furnished Quarters in Massachusetts, noted that for many years, Boston and Cambridge apartment locations weren't allowing pets. While she said that has started to change now, she added that only about 10 percent of Boston apartment buildings are pet friendly.
Buildings that do allow dogs have weight restrictions," explained Clement. "Some allow only smaller dogs and some up to 60 pounds or so. Some also have breed restrictions prohibiting breeds that are considered more aggressive, like Pit Bulls and Dobermans."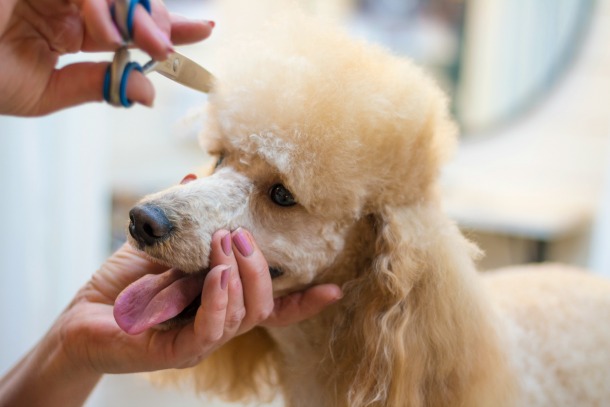 Here are some Boston-based rental buildings that allow pets to be part of the family:
Dog-Friendly Digs
In Back Bay, The Arlington not only accepts pets but also pampers them. The historic luxury residence near Boston's Public Garden offers a unique on-site Pet Spa, where guests can bring their dogs to be washed, blow-dried, and styled. The historic landmark building features designer apartments with custom kitchens and in-unit washers and dryers, along with other amenities from a fitness center/basketball court and a private residents' lounge.
In Boston's historic West End, The Towers at Longfellow opens its door to most pet owners, though the building prohibits Pit Bulls, Rottweilers, Cane Corsos, and any cross-breed or related breed. (Under the company's policy, English Bulldogs are not a prohibited breed.) If your canine or feline fits the policy, you'll find several community amenities that help pets thrive, including an on-site dog park and 40 acres of green space. There are plenty of perks for people here as well, from concierge service to basketball/tennis courts and outdoor grilling areas.
Near Boston's Financial District, Radian is another pet-friendly option for both dog and cat owners. This is a rare find downtown since many luxury buildings in this area do not accommodate pets. The distinctive 26-story glass tower residence offers pet care services as part of its Concierge program, alongside housecleaning and dry cleaning. Radian features a host of other amenities as well, such as an onsite access-controlled garage, a state-of-the-art fitness center, and a fully furnished Guest Suite for out-of-town visitors.
The Viridian gives pet owners in the Fenway/Kenmore District a chance to experience the world-class cultural offerings and a flourishing restaurant scene. Whether you have a dog or cat, you and your pet will enjoy the open floor plans and expansive living spaces afforded by The Viridian, along with two rooftop spaces to relax, grill, and dine.
Cat-Friendly Quarters
If your animal companion is a cat, you'll have an easier time finding a great place to live than dog owners. While all of the buildings above are available to those with both dogs and cats, the residences below are cat-friendly only:
With its convenient downtown location, Devonshire offers entrée to guests with cats, providing them with smoke-free living, a 24-hour doorman, and concierge service.
It doesn't advertise its cat-friendly status, but those in the know are aware that Church Park, which neighbors the Back Bay waterfront, caters to kitties (but not dogs). Cats will feel right at home, as will their owners.
If you're looking for rentals in the Greater Boston Area that allow pets, Cambridge has offerings as well, including those at The Holmes Building, Watermark Kendall East, and Watermark Kendall West.
To learn more about your options for pet-friendly temporary furnished apartments in Boston, call Furnished Quarters at 1-800-255-8117. To ensure the comfort of every guest, Furnished Quarters requires guests with pets to pay a minor nonrefundable Pet Fee to cover the costs of deep cleaning after a pet has been in residence.