The Seaport District of Boston is literally bustling with activity. FP3 Boston is the forerunner for the area, pushing through with development while others have been slowing, and doing a lot of the leg work in marketing the area. FP3 is now aiming for a Q2 2008 occupancy date, and you can see by the exclusive photos below, that construction is moving right along.
FP3 is a Congress Street condo development that includes the renovation of two existing buildings, the construction of a third infill building, and the creation of three upper-level floors set back from the street – all to create 90+ high-end loft-style condos.
Let's start with the photo immediate below, which provides a good survey, seen from the northwestern end of Congress Street, looking back down towards the new convention center – immediately in the foreground is the fire house, the green mesh to the right of that is the new building being constructed, and the two buildings adjacent to the green meshing are the structures being renovated, thus making up the three building FP3 condo development.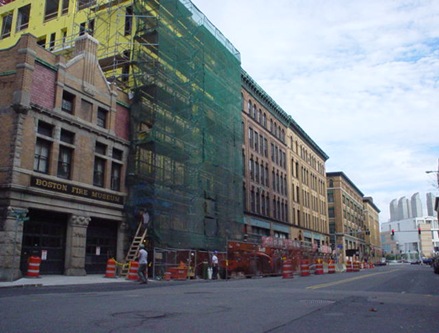 The below two photos provide you slightly different angles of the construction, and most importantly, give a glimpse into the three-floor structure that is being constructed on top of the buildings, which will be set back from the street – these are the floors that will house outdoor terraces (see related story FP3 Boston Condos with Outdoor Terraces). For more information on FP3 Boston, please contact us.