Note: The Modern South End Auction has been canceled. Click on 'The Modern South End' tag above to see the most recent updates.
Ten units at the Modern South End will go to auction on Sunday, May 18, 2008 at 1PM in the Colonnade Hotel (125 Huntington Avenue). To tour the units before the auction, you can visit the building's auction information center, located onsite at 255 Northampton Street from Noon to 7PM daily. The units being auctioned are referenced below: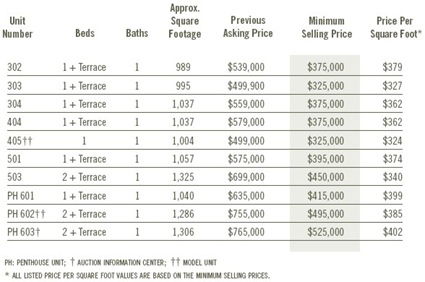 Note that minimum bids have been set for units. Bidders should arrive for check-in at Noon on auction date. The Auction will begin promptly at 1:00 PM and will last approximately 1.5 hours. For Buyer Agency representation throughout the purchase, contact us.
Registration is required to attend the auction and to become eligible to bid. Complete and return the Auction Registration Form prior to auction day – Contact 617.236.0350 for details.
If you are planning to purchase more than one residence, your completed Auction Registration Form must be received no later than May 12, 2008. Registrants will be notified of the number of homes they have been approved to purchase.
On auction day, all approved registered bidders must present a separate Cashier's Check, Traveler's Check, Certified Check or Money Order ("Cash Equivalent") in the amount of $5,000 for each residence that they have been approved to purchase. Each bidder is also required to bring a blank personal check. The blank check will then be added to the $5,000 to equal 5% of the winning bid price. Cash Equivalent(s) should be made payable to yourself.
Those who register on auction day will be required to complete the Auction Registration Form and present a $5,000 Cash Equivalent as well as a blank personal check. Auction day registrants will be limited to the purchase of one residence only.