The luxury condos at Boston's Mandarin Oriental sold out well before construction was complete, one of the first condo developments to pull off such a feat in the city.  Once closings took place in the September / October 2008 timeframe, roughly 10% of the units in the building went up for resale, even before owners moved in.  Approximately 20% of the building (11 units) is now for sale.  Buyers seem to have a fair amount of choice, in terms of unit styles, location, and amount of finishing (some units are being delivered as shells), however, Sellers at the Mandarin Oriental aren't seeing their product move that quickly.
Despite the overall lull in sales activity, unit 9H in the east building may be the forerunner for future sales, after being listed in late January 2009 for $2,600,000, it went Under Agreement last week.  9H would represent the first resale following project completion.  The unit is a 2-bedroom 2.5-bathroom 1,906 square foot unit that includes one deeded garage parking space (valet).  Condo fees for a unit like this are approximately $2,800 per month.  Closing at or around the list price would maintain the $1,000+ price per square foot that has been seen at the Mandarin, one of a (growing) handful of condo developments in downtown Boston that commands a four digit price per square foot.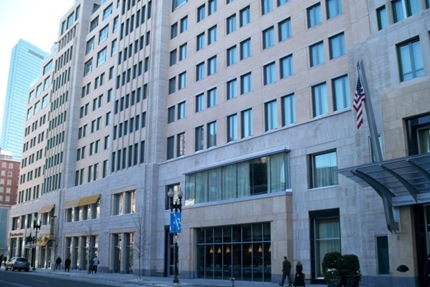 In addition to unit 9H, there are currently 10 condos for sale at the Mandarin, ranging in price from $2,554,000 to $16,990,000.  Units at the ultra luxury development have been sitting on the market for an average of 163 days, with that average somewhat bloated by a listing that has been available since January 2008 (or approximately 420 days).
Why did unit 9H go Under Agreement while the others sit on the market?  As always, it depends, but price surely had something to do with it.  At $2,600,000, unit 9H is offered at approximately $1,364 per square foot, while the remaining condos for sale in the building have an average price per square foot of $1,846.