The phone is dead at the sales office, and the plug has been pulled on what was slated to be a hot new condo development in the Charlestown Navy Yard. Thank you to the Boston Biz Journal for recently reporting that Harborview at the Navy Yard, which was to be a 224-unit condo development scheduled for a September 10, 2007 opening, has completely changed direction from being a for-sale development, and now will become a luxury rental property.
With mortgage markets tightening nationwide and local housing sales continuing their slowdown, we determined that the best direction for the project is to reposition the property as an upscale rental building," said Joseph Torg, a principal with Trammell Crow Residential (the project's lead developer), in a statement.
We spoke with the Sales Director at the Harborview sales office in mid-June, and we received the thumbs up that everything was progressing nicely, hard-hat tours were taking place with prospective clients, they were on track for a September 10, 2007 opening, and 20% of the units were under reservation. As of today, the sales office main phone number is no longer in service, and any and all mention of Harborview has been pulled from the Boston MLS.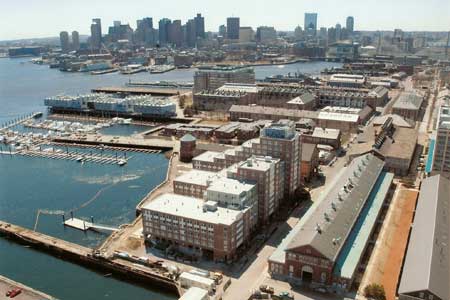 Other recent Boston condo development projects with similar reservation levels around the 20% mark have not experienced the same"luxury rental fate" – take Penny Savings Bank for instance, which is well past its July opening, and still, only 6 of its 23 units are sold and there is no mention of changing course.
One of the significant difference between Harborview and other developments that are willing to stick it out in the current market is size (number of units). Harborview at the Navy Yard is a 224-unit monster of a development, nothing else that has hit the market over the past year (or let's say after the "credit crunch" that is being stoked at every opportunity) compares to it.
However, larger Boston developments have thrived in the past several years, even those that are in Charlestown. The 2005-built Parris Landing, just a stone's throw from Harborview, boasts 367 units – 21 resale units are on the market currently, ranging in price from $289,000 to $920,000. One Charles (Back Bay / Midtown area), with 232 units, built in 2004, currently has 8 resale units available priced between $795,000 and $2,395,000.
Ultimately, it's a case of development size and market timing that has given Trammell Crow cold feet about moving forward with Harborview as a for-sale property. Simply put, they had little confidence that they could sell the 180 units that remained in a reasonable timeframe given their impression of the Boston (Charlestown) real estate market (or perhaps that is their real problem, they too have bought into the idea that city center condos are akin to residential suburbs and pan-US housing, which is wrong in theory and when looking at the numbers).
The fate of Harborview does, unfortunately, put into question upcoming "super" developments such as Avenir Boston and The Clarendon Back Bay, two large-scale projects with 241 and 400 residential units respectively, with construction already started, they are both poised to hit the market with occupancy by 2010.