We get quite a few inquiries about "the church that is now condos" in South Boston. The church, formerly known as St. Peter and Paul's Catholic Church, at 45 West Broadway was converted into 44 condos (8 in the former rectory, and 36 in the former church) with onsite parking in 2003. You may have also heard about the development last year, when a fire broke out in one of the penthouse units (see Former church catches fire in South Boston).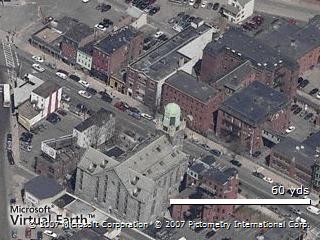 Currently, there are two first floor duplexes (units 102 and 112) available at the church, priced from $439,000 to $494,500 ($350 to $404 per square foot). At over 1,200 square feet each, these units provide great space in a historically (circa 1844) and architecturally unique building. Both units provide one deeded parking space. As you know, the area surrounding the church has been booming with luxury condominium development since 2000, from the adjacent Lofts at 36 A and Allele, to Court Square Press and Macallen around the corner, and 125 B Street Lofts (a former schoolhouse) nearby. A stones from the Red Line Broadway T-Stop, South Station is only one stop away.
For more information about "the condos at the church," or others in northern South Boston, please contact us.