Looking for a home can be an adventure – but buying one shouldn't play out like an Indiana Jones movie. If it does, it can take some serious legal maneuvering to rescue a deal that could have stayed as safe as Dr. Jones before he landed in India.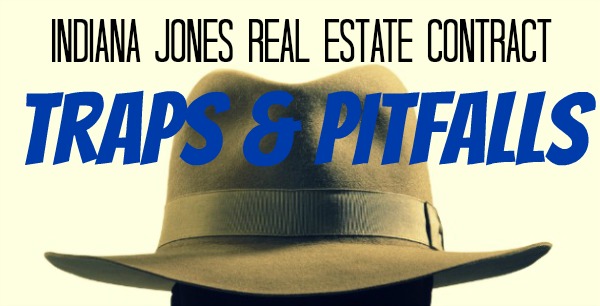 The traps and pitfalls that await you in the contract phase could spell out problems including:
losing your deposit to the seller
losing financing
scrambling to find a real estate lawyer in the 11th hour
Excluding snakes or crocodiles, you're doomed if you ignore the fine print, critical dates, or how you communicate with the seller.
Here are 5 ways you can learn from Indiana Jones, when closing (in) on your prized possession:
1. "X" Marks the Spot
Sign, sign, sign. Your contracts, including the Offer, Purchase and Sale Agreement, and Commitment Letter, should remain as ironclad as the Ark. No matter what, make sure your agreements are in writing and signed by all parties. The seller can surprise the buyer during the final walk-through—when the buyer realizes the seller removed property (chandelier, washer/dryer etc.) that was originally discussed verbally as part of the deal. If it's not in writing, it's gone for good.
2. Timing is Everything
There are critical dates involved during the Purchase and Sale process that include home inspection dates, financing and, of course, the closing date. Be sure to "whip" everyone into shape before the ball flattens your deal by agreeing to extend your dates (in the form of a written extension) if necessary – or the whole expedition could be in grave danger.
"You're gonna get killed chasing after your damn 'fortune and glory!'"

"Maybe. But not today."

Indiana Jones
3. Use Caution (with Your Communication)
You can inadvertently give your seller an easy out if you don't stipulate in writing how both parties plan to communicate. This can come into play when the buyer requests an extension. "I never got the email, letter, fax," is a common way sellers can make a quick get-away and destroy the entire agreement, leaving you in the dust.
4. Don't Get Stuck Holding The Bag
Along your journey, you may encounter an appraisal that's below the sales price, well after you surveyed the area for danger. This means your bank will lend less even though you've already committed to the purchase. In this situation, you would need to pay more out of your pocket to compensate for the lowered bank loan. Your contract however, if it's in writing, can save you. If the agreement states that the seller must work with you to address this issue, your deposit will not be at risk.
5. Make Sure You Have Back-Up
Whether it's a savvy business partner or real estate lawyer in the background, you'll wish you had another eye to help you navigate complex issues that can arise. This could be the biggest investment of your life. Make sure you consult a professional, experienced in real estate transactions, before someone replaces your treasure with a bag of sand.
Attorney Rob Pellegrini is a Boston Real Estate Observer contributor and is the former Senior Attorney at Cumberland Farms Inc. and Gulf Oil. He now runs a private practice specializing in Estate Planning, Real Estate, Land Use, and Zoning. Pellegrini enjoys working with clients on real estate matters to ensure the closing and purchase meet the buyer's expectations and divides his time between offices in Bridgewater, Stoughton, Dedham, Newburyport, and Boston (2015).