With the ongoing boom in new development for luxury rental buildings in and around the city, renters of Boston furnished apartments now have their choice of cushy perks. The Boston Globe reported recently that with "doormen, large-scale lobbies, and 24-hour concierges, renters are getting far more than they could a few years ago." The Globe added that a wider range of people—not just students and younger people—are renting in the current market because of the flexibility and convenience it offers, and luxury amenities are an additional lure.
"Amenities are hot and have gotten even more competitive this year," said Annette Clement, Executive Vice President and General Manager of Furnished Quarters in Massachusetts. "The push right now seems to be to create fantastic amenity spaces and smaller apartment spaces, though you can certainly find a spacious apartment with top amenities. Whether an on-site pet spa strikes your fancy, a movie-viewing room, or a state-of-the-art fitness center with virtual trainers, you can select the perks you prefer to create the lifestyle you want."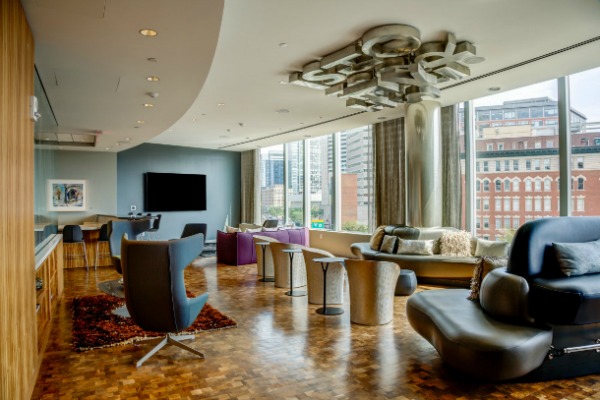 If you're curious about what comes included with the price of a luxury short-term rental or corporate apartment these days, here are some buildings that go far beyond a bed and bath:
Radian. Fitness buffs will rejoice to discover that the Radian's Fitness Center is much more than a gym. From on-demand virtual fitness classes and Technogym® cardio equipment to studio space for yoga, Pilates, spinning, and more, residents will find a wealth of health and wellness possibilities at their fingertips. Radian also offers a fully furnished Guest Suite for out-of-town visitors, a 24-hour concierge program with services from housecleaning to dry cleaning, and luxuriously designed entertainment rooms.
The Viridian. This building's two special rooftop spaces allow residents to enjoy the best of both worlds, indoors and out. With sweeping views into Fenway Park, the Sun Deck offers outdoor television, a grilling station, and a reserveable Greenhouse complete with catering kitchen, while the Sky Deck offers spaces for relaxation on chaise lounges among greenery, dining furniture, and showers. The Viridian's Health Club rivals Radian's, with digital workout personalization and Fitness On DemandÔ interactive group fitness stations. A resident lounge, work lab, and conference room are also available on the premises.
The Arlington. This Back Bay landmark stands out for many reasons, but one is surely its on-site pet spa, complete with tub stairs to help guests' furry friends ascend into the bath, and blow-drying platforms for grooming after a warm dunk. The luxury building also comes equipped with basketball court and fitness center, game room, private residents' lounge, on-site storage, and 24/7 attended lobby, as well as a move-in coordinator and personal assistant service.
The Victor. Situated atop North Station T, The Victor offers a wide range of amenities, from an 1,800-square-foot strength and cardio club to a 5,300-square-foot outdoor terrace. A private rooftop lounge is available for residents on the penthouse club levels. You'll also find an indoor sports court complete with basketball hoop and space for group exercise classes, a business center with computers, and a conference center with multimedia equipment.
The Kensington. If you value professional services, The Kensington has you covered. The building offers residents not only a 24-hour concierge and doorman service but dry cleaning and laundry service, package service, grocery acceptance, dinner reservations, theater tickets, dog walking and grooming, pet sitting, car cleaning and detail services, and 24-hour maintenance. Other amenities include a fitness center, sun deck with pool, pet spa, and private parking garage.
For those who prefer to indulge in amenities such as these without getting locked into a long-term lease or mortgage, temporary apartments offer a way to enjoy upscale buildings. Corporate apartments also allow potential buyers or longer-term renters to get to know various neighborhoods in advance while enjoying amazing perks. Call Furnished Quarters at 800-255-8117 to learn more about your options for furnished apartments in Boston.