A Boston Real Estate Observer reader recently submitted an article to us chronicling their cross country move from Boston, specifically, the long distance moving company selection process in sorting through the best moving companies.  Here's their informative account.
After opting for the U-Haul experience a few years ago to get to Boston, I really didn't want to have anything to do with personally moving my belongings out of a 600+ square foot downtown Boston condo and a small self storage unit to another state approximately 2,000 miles across the country.
I knew well before I moved out of Boston I was going to hire a long distance moving company to lift the burden off of me.  To that end, I tried to do as much due diligence on the moving process as possible to avoid moving scams, pay a reasonable price, and ultimately have peace of mind.
From my standpoint, there were a few options on the table, some of which were more work for me, while others involved little to no effort.
I checked out PODS, got quotes from 2 "less reputable" moving companies over the phone, and got in person quotes from 3 "more reputable" full-service movers.
PODS Boston Moving Service
If you're familiar with the PODS concept, it's pretty cool.
However, it's pretty expensive for what you get.
To the tune of approximately $4,000 for the setup I was considering, and you do all the packing and placing of items into the PODS yourself.
Once the PODS is dropped in front of your home, you load it up and then they pick it up, store it for up to a month for you at your destination (where it is accessible to you), and drop it off in front of your new home for you to unload it (on your own).
If you're reading between the lines here, that's still a lot of work, especially for someone like me who lived in an old brownstone with tight stairs, four flights up!
I knew it would be a lot of work going up and down stairs on my own, easier going down than up, but still an arduous process.
During the PODS quote process, they try and lock you into making a reservation (that you can cancel later with no obligation if done by a certain date), which I did do just to have a safety net, but given the circumstances and the pricing of my other options, PODS quickly got taken off the list.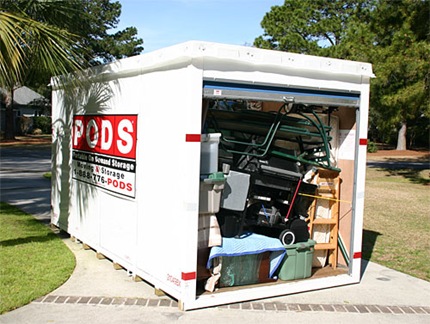 "Less Reputable" Boston Moving Companies
The two moving companies, one Boston-based and another New York City-based, I spoke with over the phone who did not come out to my place to do an in-home estimate provided me very attractive quotes from a price perspective, somewhere in the $2,000 to $2,500 range.
The pricing obviously sounds good, but when I started doing more research, BBB, message boards, and some of the government websites, you're advised to run away if a firm doesn't come out to your place to actually see what they are going to move.
Therefore, these "less reputable" options were essentially scratched off my list, even though at first glance the price was right.
While a low price tag is a really attractive option, just think about some of the implicit realities that accompany a phone-only estimate.  At its core, how much you pay for moving is based on both the amount of stuff you move and the distance it ravels.  The inventory of items that is collected by the moving company over the phone is invariably going to be incomplete, which essentially voids that low estimate you were given and leaves you exposed to additional and unexpected charges, or worse yet, not enough room on the truck for your shipment on the big moving day!
Additionally, moving companies who provide phone-only estimates, in most cases, aren't familiar with the area and don't really know what they are getting themselves into – for instance, it was a little fishy when one of the moving companies suggested that they shouldn't have any problem getting an 18-wheeler down my street to pick up my belongings when I know for a fact there's little to no possibility of that size truck making it down my tight Boston street.
"More Reputable" Boston Moving Companies
The three moving companies that actually came out to my condo were North American, Allied, and Eagle Van Lines (smaller, and local to Boston, but with cross country moving capabilities).  All of these companies came out to my condo, provided quite thorough in home estimates, and can give you different prices for different levels of packing (self pack, partial pack, or they pack everything for you with a full pack).
How much does it cost to hire Boston movers? Full pack quotes were approximately $4,000, $4,100, and $3,700 respectively.
The major difference between them for me was that Eagle Van Lines (with the lowest full pack quote) would store my stuff for up to a month in their warehouse at no charge.  Based on my move itinerary, I really needed that extra storage time.  North American and Allied, the bigger firms, would only provide additional storage time for a hefty extra charge.
That said, I chose Eagle Van Lines.
They picked us up early one month, and we ended up taking delivery approximately one month later.  I wanted Eagle Van Lines to store our stuff for a while because we made a couple of stops before actually getting to our destination, and once there, I had some renovations done on my new home and wasn't sure exactly when I wanted my goods to arrive.
Theoretically, if I was ready for them, Eagle Van Lines could have delivered within 7-10 days of picking me up.  Basically, you give them your "first available date", and then per their contract, they have to deliver within 7-10 days of that.  Given my situation, I obviously needed the flexibility and so I stayed close, via phone, to the cross country shipping manager to keep my finger on the pulse of the location of my stuff and its actual arrival date.
While I was a little skeptical going with Eagle Van Lines, they checked out on the BBB very well, they had some complaints but not too many, they had all their licenses, etc.  Admittedly, there were some questionable things, like why did they change their name some time back?  Outside of the storage situation, which was important to me, it was a relative wash among the reputable moving companies that provided me an in-home estimate.
At the end of the day, I just had to trust that Eagle Van Lines was going to step up and do what they said they would do.
With that, I negotiated a change in the percentage deposit that I gave Eagle Van Lines, moving the balance in my favor – I didn't want a moving company, regardless of who they are, to have 50% or more of my money up front with no real incentive to actually make the delivery.  With no significant issues, my stuff arrived, including a working plasma TV.  Admittedly, Eagle Van Lines broke several dishes and cracked a snowboard of mine, and my email inquiries to them regarding how to "reconcile" the damages have gone unanswered – I'm not sure if I'm going to make phone calls and actually push the situation or not yet.
Boston Moving Tips
If I had to provide tips to someone else on the cross country moving process, the first thing I would suggest is to start the endeavor early.  Have at least 3 firms come out to your condo, seeing if you can eventually play them off one another if there are any significant differences (admittedly, you don't want there to be huge differences because that would mean that they don't know what they're doing and how to estimate properly).  If they are bunched up like they were for me, perhaps there's one thing that separates them (the storage for me), or just a feeling you get after you do your own research.