Real estate success stories are on the rise again and sellers have started hauling in big profits – in many cases at least twice as much as initial purchase values.  The "average" home buyer is cashing out, yet it's the savvy investor who has the biggest advantage.  
As a real estate and development attorney in Massachusetts, I regularly see real estate fortunes made first-hand, especially now.
Your next big windfall is within reach if you can master one of the most important skills in real estate:  awareness.
Here are the top 5 indicators our clients look for in an emerging neighborhood:
1. Behavior
When a community feels safer, there's a good chance more people are likely to get involved in the local scene, which means an increase in residential activity. Look for signs that neighbors are beginning to interact with the community.
You'll see:
increased foot and bike traffic
more pedestrians with baby carriages
farmer's markets
weekend cookouts (open your car window and smell the burgers)
community theater (pay attention to anything "artsy" or "organic")
You may be late in the game when:  bike paths have been constructed in natural areas, the neighborhood is in the path of a marathon, or weekly exercise or kids classes are hosted in the neighborhood park.
Landscape
Look for conflicting landscape characteristics that suggest an emerging neighborhood. New and shiny landmarks will begin to crop up in the middle of a depressed area, which could spell a potential gold mine. Other characteristics may include:
a tidy section of town within close proximity to littered streets
a green park located next to a vacant structure (i.e. warehouse)
freshly painted storefronts adjacent to run-down buildings (with shattered window panes or security bars)
new construction surrounded by dilapidation or graffiti
traffic improvements
parking lot construction
art installations on the side of buildings to beautify dilapidated buildings using local areas
dog parks
You may be late in the game when: full blocks are newly developed, new parking meters or recycle bins installed on streets, Starbucks or Panera open new doors, or when all the stores look inviting.
Traffic Flow
Observe the type of foot and vehicular traffic even more than the volume itself.  Also pay attention to different times in the day (that were relatively quiet a year before).
You might see:
young professionals walking past empty lots during their morning commute
a new transit station project in the center of a dilapidated neighborhood
young families in close proximity to a diverse group
You may be late in the game when: accommodations for commuters are abundant and already in place.
4. Investment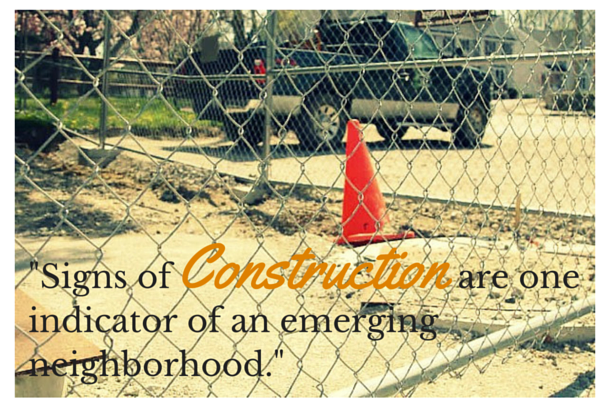 Watch for signs that the community is planning for growth and investing in itself.  It's all right in front of you:
new sidewalk or park construction
construction equipment
real estate developer signs
Main Street revitalization projects
Memorial parks
incubator offices open for entrepreneurs
a new medical center (the real estate industry often sees this as an indication of a community addressing a growing region's needs)
City Hall is being renovated
You may be late in the game when:  a local chamber of commerce hosts a ribbon-cutting ceremony for a new park or an older office building was just refaced to a glass facade.
5. Sentiment
Although real investment development shouldn't yet be in full bloom, you'll notice the seeds of change taking root at a soon-to-be prime location. Indicators include:
Open storefront doors and windows
Excitement about an area
when the average "time on the market" becomes extremely short.
You may late in the game when: national restaurant chains and supermarket chains have already opened their doors.
Sensing an uptick in the real estate market takes research, skill and intuition, and there's always room for error.  Even with awareness, hard work, perseverance, and a little luck are involved too.  Use every asset at your disposal, and surround yourself with a knowledgeable and experienced team, to maximize your chances for success.
Robert Pellegrini is a real estate and development attorney in Massachusetts and advises clients on permitting, zoning, and buyer/seller agreements.