In the face of a luxury condo auction less than four blocks away (see Bryant Back Bay to Auction 10 Luxury Condos), listing prices at the Atelier 505 building, the South End's first large-scale luxury condo development, are actually being adjusted up, rather than down.
Unit 307 at Atelier 505 was listed for sale on September 8, 2009 for $1,750,000, and 20 days later, a price adjustment of $45,000 has taken place.  The interesting note is that the price adjustment is up, not down, and the condo is now listed at $1,795,000.  The condo boasts 1,810 square feet ($992 per square foot), 2+ bedrooms 2.5 bathrooms, floor to ceiling windows, and 2 deeded garage parking spaces in the onsite underground garage.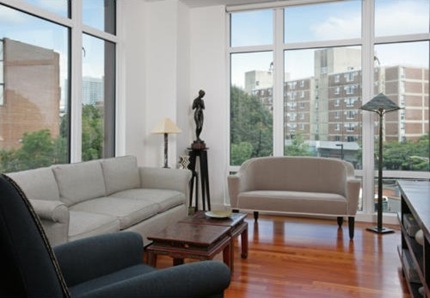 In the past six months (according to MLSPin, one of Boston's two MLS systems), of the 296 units that sold in the South End, there have been 17 condos that have sold for prices higher than the original listing price.  Condos such as unit 317 at Wilkes Passage sold for $31,000 over its original asking price on August 28, 2009, or unit 3 at 116 W Concord Street sold for $10,000 above the original asking price on September 24, 2009.  This adds to the 13 units that sold for full original listing price during that same time period.  There are, nonetheless, instances that go in the opposite direction, including 437 Columbus Avenue unit 4, which labored on the market for 262 days and closed $89,000 below its original asking price.  Clearly, being priced "right" out of the gate is a clear predictor in a unit moving quickly and at or above its original asking price, as the units that sold for at or above original listing prices over the past six months had an average days on market of 21, compared with an average of 76 for those that sold for anything less than full asking price.
Perhaps part of the allure to an auction format that South End / Back Bay residents will soon see when the Bryant condos are auctioned on October 17th is that the units will inherently be priced "right", not arbitrarily, but by the uninhibited economic forces of the market.