I've had the opportunity to tour 83 West Brookline Street in the South End several times now, and long story short, the condos in one of the South End's latest rowhouse renovation projects are coming together very nicely.  A photo tour of several of the units can be found below.  The developer will take these condos to market in approximately two weeks.
The penthouse kitchen at 83 West Brookline Street features granite counter tops, lots of natural light, stainless steel appliances and gorgeous white cabinets that complete the space.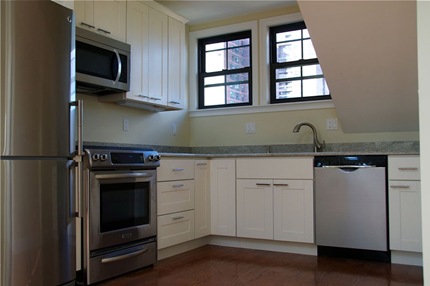 The view from the living room of the South End penthouse unit boasts the iconic Prudential Center tower.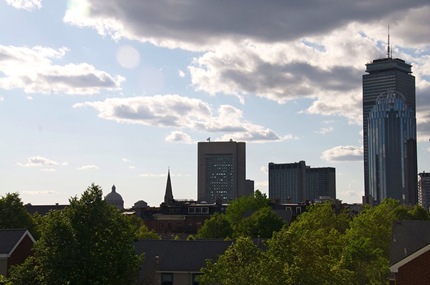 3 of 6 skylights in the cathedral ceiling flood the penthouse unit with natural light.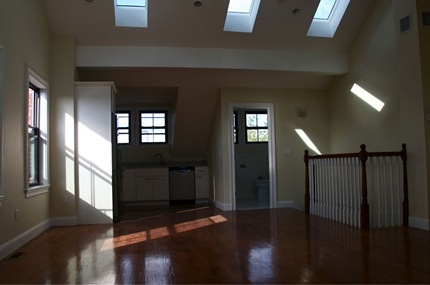 The bathroom finishes at 83 West Brookline Street include subway tiles, wood framed mirrors, and trendy vanities.
A view of the kitchen in the 1 bedroom unit at 83 West Brookline, complete with a washer/dryer combination unit – a must have in the South End.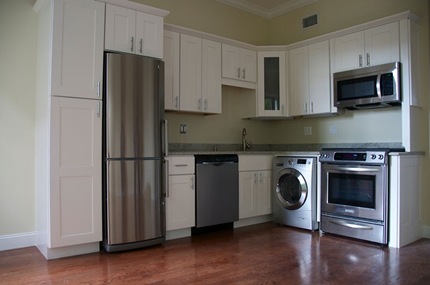 The garden and parlor level duplex, which is a 2 bedroom 2 bathroom condo, features a bright and open kitchen complete with prep island.