We stopped into the 65 Broad Street Lofts tonight for a walk through of the two remaining units (Unit 3 and 4) during the open house. We actually got a peek at all of the units (even the sold ones), and the remaining two units are probably the best of the lot – they have large banks of windows, a flowing floor plan, and a decent amount of storage.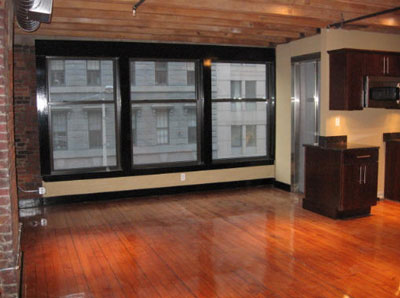 The two remaining units in this direct elevator access six-unit low-rise building are relatively the same, with only a few small differences. Unit 3 has slightly more storage, a stand-up shower stall (rather large), however, the washer and dryer hookup is under the stairs and it would be a tight fit from a height perspective for a stackable washer and dryer. Unit 4 has slightly less storage, no height problem with the washer and dryer hookup, and a jacuzzi shower soaking tub (the slightly deeper kind) rather than a stall shower.
There was a fair amount of traffic through the units. Both remaining units at 65 Broad Street are immediately available for $399K each. Contact us to do a walk through and put in an offer.