The former Boston American Red Cross building at the corner of Columbus Avenue and Clarendon Street, on the border of Boston's Back Bay and South End, is being redeveloped by Boston Residential Group into 63 high-end loft-style condos. Boston Residential Group is no stranger to working on landmark buildings, such as 360 Newbury, and they are quickly moving forward on the conversion of the former eight-story Red Cross building into what they are calling 285 Columbus Lofts.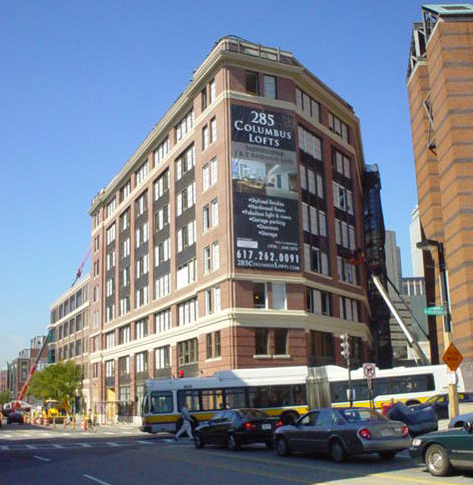 The lofts at 285 Columbus add to a growing conglomerate of high-end new developments within a several block radius, including the Bryant on Columbus, the D4 condos, and the Clarendon Back Bay. 285 Columbus will add 55 market rate (which leads us to believe that there will be 8 affordable units – more information on Boston affordable housing) loft-style condos to the area, ranging in size from 753 square feet to 1,579 square feet, with prices ranging from the high $500's up to approximately $1,500,000.
The units are slated to include high-end, sophisticated finishes, hardwood floors, large windows and high ceilings. The building has double loaded corridors with front units on Columbus Avenue, back units fronting the Hancock Tower, and back and side units on Clarendon Street. There will be nine (9) units per floor, along with extra storage in the basement.
Parking will be available behind the building at 131 Dartmouth Street – unfortunately, parking will be leased, however, 285 Columbus Lofts is negotiating exclusive long-term rates with the garage. A restaurant (name not announced yet) will occupy the 9,000 square foot commercial space on the ground floor. The tentative occupancy date is June 2008 – matching the Bryant on Columbus, FP3 Boston, and the Boston Mandarin Oriental (it's going to be a busy June).
For more information on unit statistics, please see the 285 Columbus Lofts page at Boston Condo Guy.